CDs
JON SASS - SASSIFIED
Get the CD from ATS Records
Jon Sass "Sassified"@@@@ Jazz – The new definition of an already known instrument (2005) (CD, ATS) Sassified is a unique recording, being a Tuba-Solo-album. Thrilling! (Der Schallplattenmann)
Jon Sass seems to be born as a tuba. His instrument is the extension of his soul. His CD SASSIFIED brings across the real reason why there is music to be heard in the first place: pure delight at the highest spiritual level. Jon Sass reveals the modernistic trivial appearances of today with an almost shamanistic way of seeing things. The point where the sophistication of technology has come to an end is where Jon Sass begins (Christian Kolonovits- Austrian Producer)
Music:@@@@@@ Sound:@@@@@ Sassified (the CD) More than a piece of art. A synthesis of arts. Jon Sass plays the tuba, as it has been heard rarely or never before, he has found his sonorous, by all means --sensuous voice and presents a real firework of chimes, sounds and tunes. What is presented here, is without a doubt a milestone in history of Tuba. (Akro Kulturwoche-)
THIS CD IS INCREDIBLE !!This is a journey deep inside the creative mind of a musician whose flair and skill have been admired for years. But the originality and colors Jon achieves with this recording is truly sensational! The sheer breadth of tone and wonderful articulations make this a MUST HAVE CD for any brass musician. It's powerful resonances have the power to touch any human soul; it's a disc you'll go back to over and over again. Bravo, Marvellous !! Steven Mead
"I've listened to it three times straight through. I feel this is the most creative recording ever made by a tuba artist. The writing is incredibly fresh....a great mix of today's music with classical and jazz vocabulary used as well to keep the listener alert and unable to predict where it will go next. All of this work is done with the utmost care about intonation, balance, and clarity of lines. There are great solos here...good ideas, great sound uses here! This is not easy to create in today's music and still GROOVE as hard as this disc!!! The time is killer!!! " SAM PILAFIAN
JON SASS' SOULUBA BAND - Breeze Of Life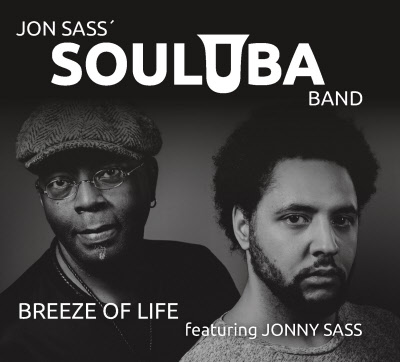 Get the CD from ATS Records
Breeze of Life is an original journey rooted in a sound of the bass tuba and voice. The music is a mix of gourmet food for the soul in a blend of generations. The tuba player and singer of the band are father and son who set out to share their musical worlds. The formation and music are both original, blending a range of stylistic vocabularies flavoring the music, from Jazz, Funk, R&B, Latin and Carribean elements yet, sets its own niche.
Lineup:
Jon Sass - Tuba, Rap
Jonny Sass - Vocals, E-Bass
Christian Bakanic- Keyboards, Accordion
Eldis La Rosa Monier - Sax, Flute, Percussion
Julian Beran – Drums
VIDEOS
Solo Sassaphonic
Ginger Flower Song
Vienna Horns Art of Brass
Souluba featuring Jonny Sass
Music and Conversations
Wiener Kammerorchester
PRODUCTS, PUBLISHED BOOKS
The Jon Sass Bassline Book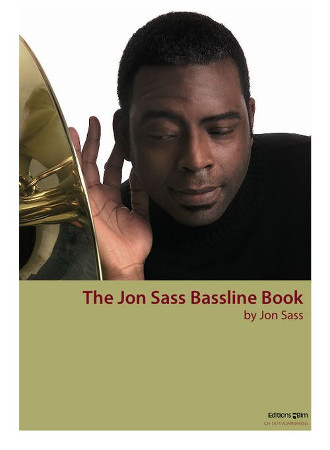 This book includes a selection of grooves taken from the original Sassified CD as well as other material recorded by Jon Sass. The playing tips and rhythm exercises will help to practice and understand the different aspects of bass playing.
The Bass Line Book - Contents and Sample [2008 © Editions Bim »]
The Jon Sass Groove & Creativity School
The Creative Impulse Workshop Series #1 (CIWS) is designed to encourage and allow musicians to use a creative means to develop performance concepts and artistry! It is the first workshop in a series that focuses on the following themes: Writing your own rap, developing choreography (for quartets only), mouthpiece or tuba improvisation, arrangement options and playing fills. This booklet together with play along CD, provides a basis for developing rhythmic skills with it's focus on groove. It is an educational tool for individual tubists which is part of a collection for use with tuba Quartets.
PUBLISHED INTERVIEWS
Deutschlandfunk Jazz Facts - Jon Sass
George Floyd Interview
Jazz Time Interview mit Andreas Felber
Sonic Pages Interview
Music can provide a great basis for a give and take relationship. If composer and performer of a piecc are sincere with their message and the music touches the listeners, it then generally affects what one receives, not only from the audience but from peers as well. For Jon Sass, music has no demands: it exists as a creation and reflects the experience of the performers and composer.
PHOTOS & ARTWORKS
WORLD OF SASS