JON SASS DESTINY BAND
Jon Sass - Tuba USA
Rachelle Jeanty - Vocals Canada
Patrick Zambonin - Bass Switzerland
Steve Matyus - Drums AUSTRIA
Gerald Schuller - Keyboard AUSTRIA
A native of Harlem in New York City, Jon is presenting a program with a diverse mix of African American music and cultural spices which resonated culturally and from having grown up in New York City in the 60s and 70s. The span of music stylistically is from Jazz Funk, Soul, R&B, Hip Hop and, Jon put together some of the best musicians living in Austria best suited for this musical journey. The events of 2020 around the world inspired global movements in response to the different areas of injustice not just racially in regards to African Americans but for the global call for justice. The problems with racism are global. After the world witnessed the murder of George Floyd, seeds were planted inspiring a solo program called the "Fight for Justice".
The band: Vocals - Rachelle Jeanty, bass - Patrick Zambonin, drums - Steve Matyus, and keyboard - Geri Schuller.
Though rarely is such a program interpreted or led by a tuba player, Jon is uniquely qualified and lives beyond the title "Der Tausendsassa der Tuba".
SASS & I-WOLF
SONIC
ASSIMILATION
SYMBIOTIC
SOUNDS
Jon Sass - Tuba USA
Wolfgang Schlögl - Electronics Musical Artist AUSTRIA
Sonic Assimilation Symbiotic Sounds is a bold new program from the re-known Tubist, Jon Sass teamed up together with Electronics musician Wolfgang Schlögl, venturing into a multi-elemental journey of musical symbiosis fed from the live impulses of both musicians. Looking back at their histories, Wolfgang is founder of the famous group SOFA SURFERS and as a solo artist one can hear him as a true magician with electronic music I-WOLF productions such as Soul Strata where he was represented for weeks in the Austrian charts. Jon is world re-known as the Der Tausendsassa der Tuba and a true oneof a kind……his imitable approach and soulful sound on the tuba has given him a truly unique solo career.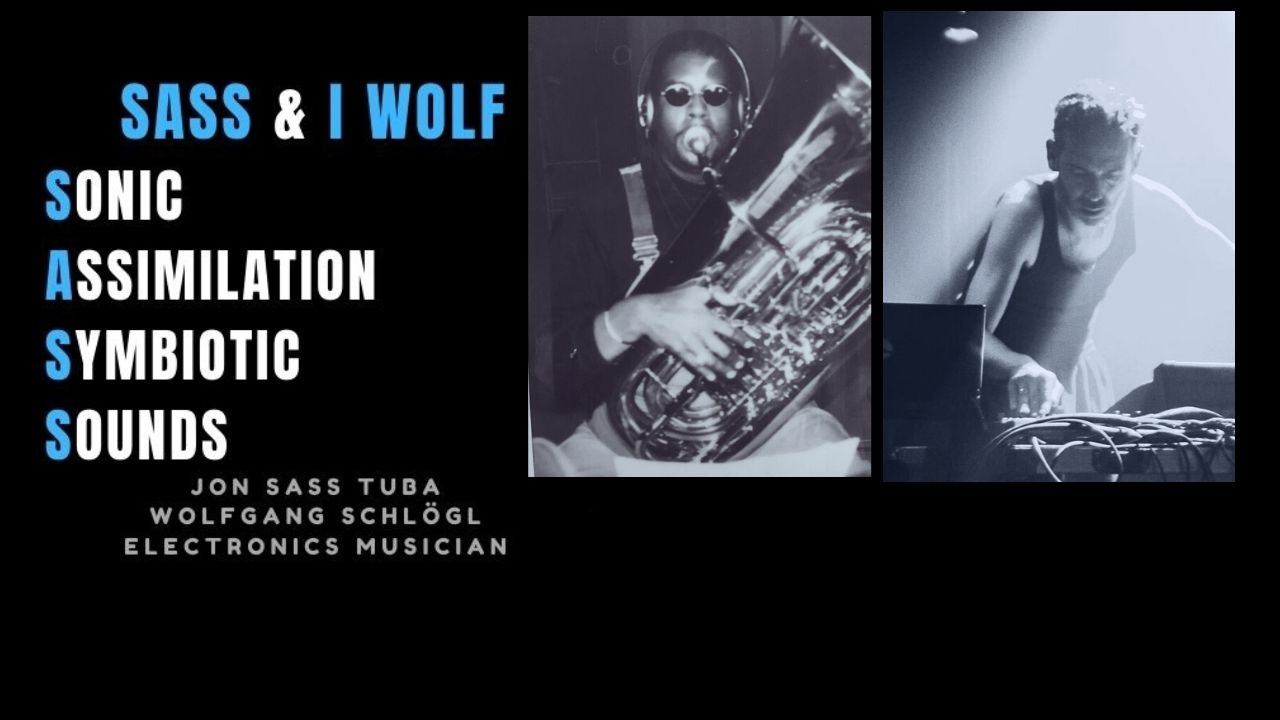 Jon, a native of Harlem in New York City, has experienced blending elements and genres in his SASSIFIED LIVE multi-media program in 2006 and as well on cd. Diverse flavors such as Funk-Jazz- R&B to message music at times come from the bottom with vibrations to lift the spirit with the wisdom and love provided from the universes of both musicians. Not to miss!!